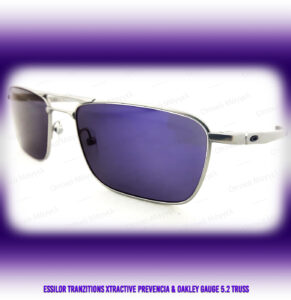 Optical technology on the verge of exaggeration!
And YES it's soooooo relaxing!
Dynamic light adjustable Essilor Transitions XTRActive Gray lenses with top blue blocker coating Crizal Prevencia in a lightweight frame Oakley Gauge 5.2 Truss made of titanium!
Dear Spyros is a programmer and spends "endless" hours in front of three computer monitors at the same time (multi monitor desktop), and he wanted the best for his eyes!
With Transitions XTRActive lenses, his pair of glasses can be worn anywhere and anytime as they constantly adjust ideally the amount of light that reaches his eyes.
Transitions XTRactive provide comfortable vision in any lighting condition, in combination with Crizal Prevencia coating they protect the eyes even in the most demanding conditions!
Crizal Prevencia coating, in addition to top protection, provide a very interesting and "mysterious" look with the deep purple mirror that appears when exposed to the sun and the lenses darken, but also when they are discolored where they leave a purple iridescence.
They are a perfect match with the silver matte color and the modern design of the lightweight titanium Oakley frame Gause 5.2 Truss.
Enjoy your new pair of glasses, Spyros!
SoundTrack: KenForce & Envici – Cosmic
KenForce: https://soundcloud.com/kenforce13, https://www.facebook.com/KenForce13, https://www.instagram.com/kenforcemusic, https://www.youtube.com/channel/UCTx_…
Envici: https://soundcloud.com/envici_music, https://www.facebook.com/envici.media, https://www.youtube.com/channel/UCw16…
Music from Soundcloud
Music provided by RFM:  https://youtu.be/qJ6PB_56VJY
#essilor #transitions #transitionsxtractiveprevencia #transitionsxtractive #prevencia #crizalprevencia #mirrors #mirroreffect #deeppurplemirror #livethegoodlight #lightundercontrol #oakley #oakleyeyewear #oakleygauge #gauge #gauge5 #truss #eyewearperfection #perfection #eyewear #sunglasses #fashion2019 #uvprotection #uv #driving #nightdriving #rx #flashmirror #optika #optikamaggel #multiscreen #computervision #computer #blueblocker #bluecontrol