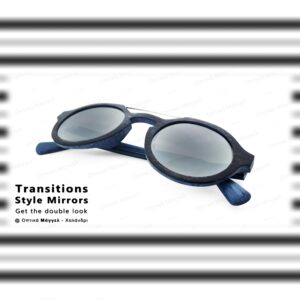 Dynamic photochromic sunglasses that adjust color by themselves, for relaxed vision in any lighting condition, even in night driving!
They provide clear vision due to the increase in contrast they provide.
They offer complete protection for the eyes, due to their chromocrystals, which without changing the colors (not even white), protect 100% from UV radiation!
Furthermore, they have an impressive double appearance … indoors and at night they are almost completely transparent and as if with slightly white anti-reflective coatings and as soon as we are outdoors and inside the car during the day they become dark with a silver mirror.
*time needed to become dark from trandsparent is about 30sec / time need for full discoloration from dark is about 7min
#essilor #stylemirrors #transitionsstylemirrors #flashmirror #flashtomirror #mirror #optika #optikamaggel #transitions #xtractive #transitionsxtractive #eyewear #sunglasses #rxable #lightundercontrol #livethegoodlight #lovemyjob #lovemywork #chalandri #halandri #mirroredsunglasses