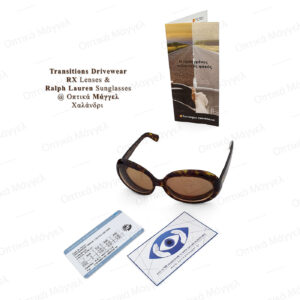 Mrs. Dimitra decided to give herself a gift of quality vision…!
She chose the timeless and "ageless" Ralph Lauren sunglasses in brown-yellow-green tortoise color, which we upgraded them with Essilor's Transitions Drivewear lenses, including her eyes prescription.
Transitions Drivewear matched perfectly with the frame's color, while at the same time its shape "hide" their thickness  (due to RX) giving an even more aesthetic result!
We chose Drivewear due to the maximum protection from UV radiation and the harmful blue light they offer, with an index of E-SPF 50+.
They have the ideal color adaptability to changing lighting conditions (especially while driving):
Yellow-green in the cloudy weather, but also very early in the morning or at dusk (so we do not need to take off our glasses as soon as the sun goes down a bit).
Orange-bronze in sunshine and in driving conditions for maximum performance of the colors we are interested in driving (green-red, but also the gray and brown shades of the road).
Brown-red in outdoor conditions of intense sunshine for maximum comfort of the eyes from bright light and for ideal contrast.
They are polarized and cut off the dazzling effect due to sunlight's reflection on the road, on the car dashboard, on the inner surface of the windshield but also on the sea surface, making the image we see more embossed, more detailed and more relaxing.
They have internal anti-reflective coating Crizal Sun UV so that even when the sun is behind / next to us its light is not reflected annoyingly on the back of the lenses.
Furthermore, they are made of unbreakable Trivex material to protect the eyes but also to reduce their weight.
PS1 They are also available with a mirror (gold / silver / blue / pink-gold) on their front surface for a more fashionable / eccentric look, either plano (without degrees) or with the degrees of our recipe (unifocal and multifocal).
PS2 The official instructions from Transitions are that for night driving they are forbidden, and then the transparent eyewear should be used. However, if we do not have the transparent pair of glasses with us and the night catches us, the specific lenses at night have become so discolored that we will be able to reach our destination in low speeds with care.
SoundTrack:
Music Credit: OurMusicBox (Jay Man)
Track Name: "World From Home"
Music By: Jay Man @ https://ourmusicbox.com/
Official "OurMusicBox" YouTube Channel: http://www.youtube.com/c/ourmusicbox
License for commercial use: Creative Commons Attribution 4.0 International (CC BY 4.0)
https://creativecommons.org/licenses/…
Music promoted by NCM https://goo.gl/fh3rEJ
#youngeroptics #essilor #transitionsdrivewear #sunglasses #eyewear #sunglassesfordriving #womensunglasses #optika #optikamaggel #chalandri #allweather #lovemyjob #lovemywork #Transitions #Drivewear #CrizalSunUV #uv