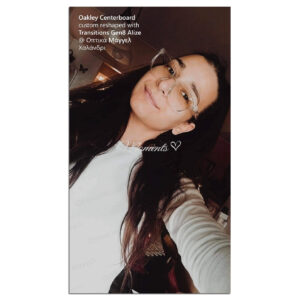 Miss Dimitra asked us "all in one"!
From the first moment we met Dimitra, she was impressed by the Transitions eyeglasses we wear and when we explained their characteristics to her, she was excited, telling us that at the first opportunity she would come to make such a pair for herself.
So the time came and Dimitra came and wanted her "all in one" pair of glasses:
A nice, special pair of glasses to wear "from morning to night", indoors where she works and outdoors.
She wanted clear and relaxed vision all day, with maximum protection in every lighting condition and of course a modern youthful appearance to fit her style!
With the combination of Essilor's Transitions Gen8 Gray Crizal Alize UV ​​lenses and the transparent Oakley Centerboard OX816303 frame, we gave her exactly what she asked for!
In fact, we "teased" the shape of the frame a little so that it fits even more in the lines of her face, making the glasses even more personalized.
Essilor Transitions Gen8 lenses adapt quickly and continuously to the lighting of the space we are in, from completely transparent indoors or at night to very dark in the sun.
Available in 7 different colors, single and multifocal and all refractive indices and materials.
Dimitra chose the Gray color for her own transparent Oakley as more neutral while the very discreet green anti-reflective Crizal Alize UV coatings ​​give it a light iridescent "crunch" when they darken.
Looking-good Miss Dimitra!
Come* to our store in Chalandri for a complete presentation of the Essilor's Transitions lens collection but also to test them in real conditions.
*by appointment only as long as the measures against the spread of Covid-19 apply.
#transitions #transitionsgen8 #gen8 #lightundercontrol #livethegoodlight #photochromic #dynamic #lightinteligentlenses #essilor #oakley #oakleyeyewear #oakleycenterboard #centreboard #smarteyewear #lightadaptive #optika #optikamaggel #xalandri #chalandri #lovemyjob #lovemywork #eyewear #gyaliaorasews