Wanted:
Modern look and perfect vision with absolute clarity!
The transparent frame by MO eyewear was perfectly combined with the Essilor Ormix lenses with Crizal Sapphire, and the result is impressive.
Miss Katerina is a surgeon and has (especially for her working hours) high demands on her glasses.
Crizal Sapphire coating maximally reduce the annoying reflections on the surfaces of the lenses and make them practically invisible, while their lipophobic and hydrophobic characteristics make their cleaning very easy.
Thus, the vision becomes completely clear, and the appearance is optimized at the same time!
At the same time, they provide over the top UV protection with an ESPF 35+ index.
However, like clear lenses, they do not offer shading, but the MO Eyewear frame has its own clip-on sunglasses.
From the factory the frame had gray lenses with green mirror, but Mrs. Katerina wanted something more subtle but not boring.
Carl Zeiss Vision pink-brown with silver gradient mirror lenses were finally chosen, and they matched very nicely with the transparent frame, creating a very harmonious ensemble that can be easily combined.
Enjoy them, Miss Katerina, and best of luck with the operations you perform!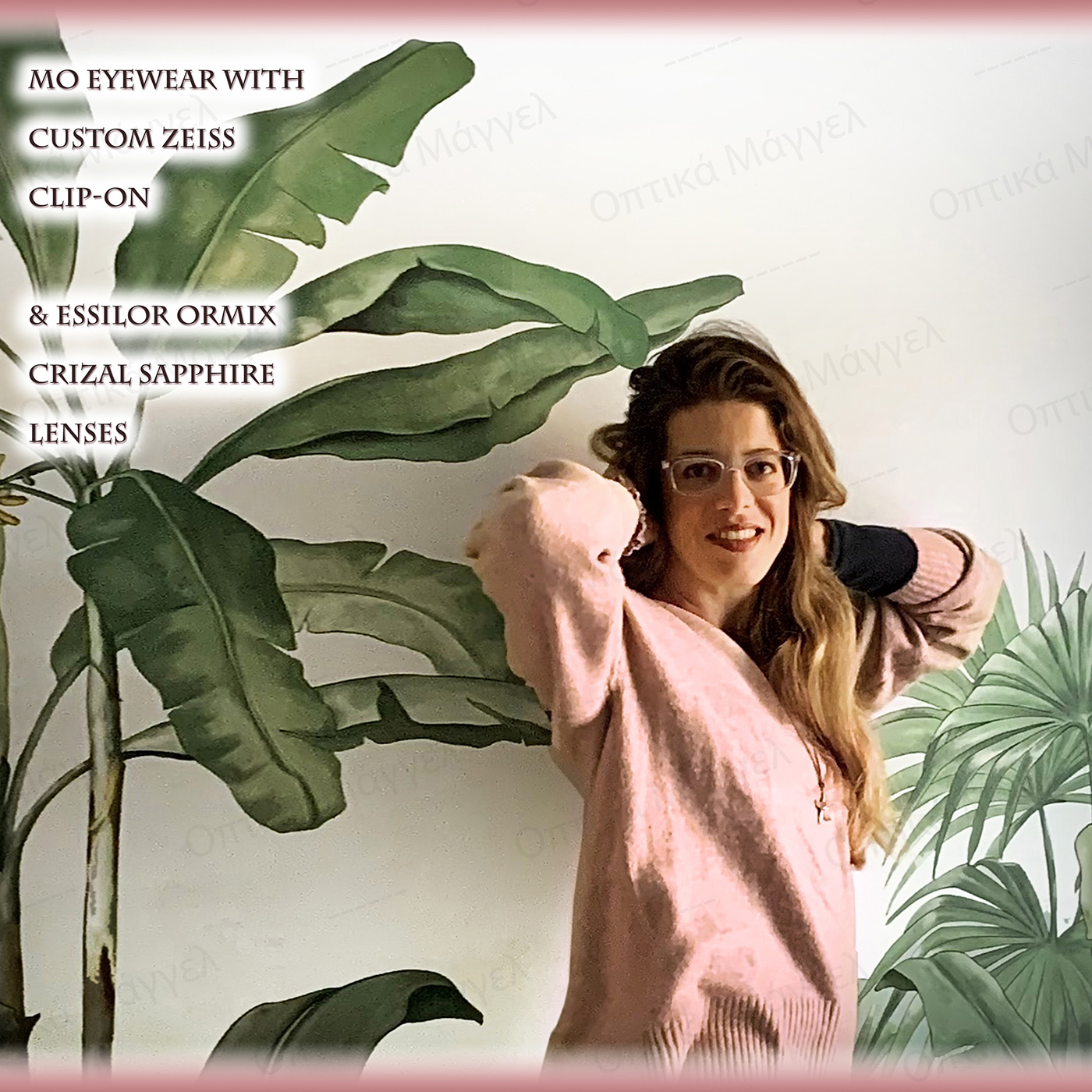 #moeyewear #eyewear #gyaliaoraseos #gyaliaorasews #γυαλιάοράσεως #γυαλιαορασεως #cliponsunglasses #customeyewear #customsunglasses #builttoorder #essilor #eesilorcrizal #crizal #crizalsapphire #sapphire #zeiss #carlzeissvision #carlzeissvisionsunlenses #sunlenses #sunglasses #clearframe #cleareyewear #ilovemywork #ilovemyjob #womeneyewaer #womenseyewear #mirrored #mirrors #pinklenses