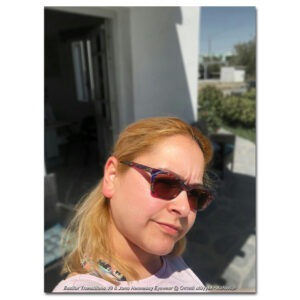 Enjoining Mykonos's Sun with Essilor's Transitions VII Brown Crizal
Alize UV lesnes with limited edition frame from Jono Hennessy!
Have a nice season on the island dear Miss Ero!
Custom Jono Hennessy eyewear with myopic Essilor's Transitions Signature VII Brown lenses.
The peculiarity of the limited production Jono Hennessy 8391 is in their coloring!
The acetate is transparent and has a multicolor fabric inside!
Transitions Signature VII.
Advanced Lighting Management Technology
Intelligent light adjustable lenses for your eyes
Dark brown outdoors!
Completely transparent indoors!
Chromea7 technology
100% absorption of UV radiation
Protection from harmful blue light
Crizal Alize UV coating
The best lenses for everyday use!
#transitions #essilor #signatureviii #crizalalizeuv #jono #jonohennessy #limitededition #optika #optikamaggel #xalandri #halandri #chalandri #lovemyjob #lovemywork #lightundercontol #livathegoodlight #uv #uvprotection #photochromic #adaptive