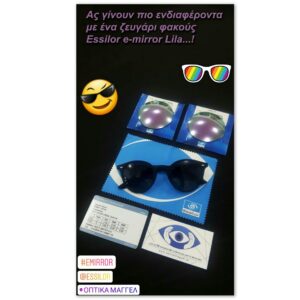 Beautiful Colored People 220 / C255 sunglasses in matte dark blue color with degrade gray lenses, AS LONG AS you want them discreetly!
If you do not want them though?
If you want them to be intense?
More distinct?
More eccentric?
Then with a pair of e-mirror Lila lenses from Essilor they are made exactly as they should be (of course with the RX of your perscription if you need them)!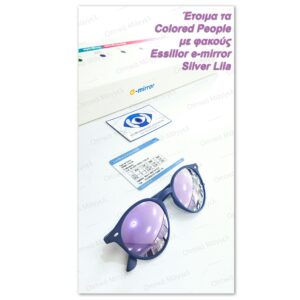 This is exactly what dear Alexandra wanted!
The e-mirror Lila lenses matched perfectly with the dark blue frame of Colored People and gave a very interesting aesthetic result!
The design shows in detail that e-mirror lenses are not just "lenses with RX, color and mirror".
They have multiple coats of Crizal Sun UV, both on the front and on the back with lipophobic, hydrophobic, antistatic and anti-scratch characteristics
With these coatings the e-mirrors have top protection from UV radiation with protection index ESP-F 50+!
The aspherical design and the dark green / gray color give them comfortable and relaxed vision and increased contrast even in bright sunlight!
Enjoy them Alexandra!
GREDITS http://bairamoglou.gr/essilor-e-mirror
#essilor #coloredpeople #coloredpeople #emirror #lila #sunglasses #hyperopia #rxsunglasses #optika #optikamaggel #prescriptionsunglasses #chalandri #womensunglasses #womeneyewear #womenfashion #fashionsunglasses #lovemyjob #lovemywork