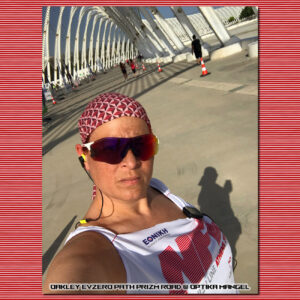 With the lightweight Oakley Ev Zero Path Prizm Road at NFL2022!
From Wednesday 25 May to Sunday 29 May 2022, the No Finish Line Festival was held at the "Kalatrava Market" with the aim of supporting thousands of children in need.
The organization, through the five-day 100-hour race, contributes on an annual basis to the implementation of children's programs of organizations, institutions, associations such as the Union "Mazi gia to paidi", while at the same time educates, trains and cultivates the mentality culture and culture of dissemination-support-participation in actions.
We participated and in the end we "wrote" a total of 35km (Wednesday afternoon, Thursday and Saturday night – 358th place out of 3570 participants).
We wanted more but other obligations did not allow us to do so..
It does not matter, we will participate at the next year's Festival!
In the afternoon sun, the Oakley Ev Zero with Prizm Road lenses accompanied us perfectly..
With non-slip armbands and nosepads made out of anobtanium and Prizm Road lenses for maximum color performance, relaxed vision and eye protection on the road (running, cycling, walking)!
To be honest, we do not move at a pace where the reduced weight makes a difference in time, however why exercise with something heavier while you can wear the lightest!