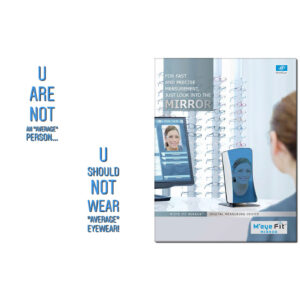 At Mangel Optics, we are proud to now have Essilor's new M'Eye Fit digital measuring system.
The M'Eye Fit is the newest and one of the most accurate measuring instruments for executing your prescription.
With its measurements, we have the ability to fully adapt your glasses to the particular features of your face.
If we all had the same facial characteristics and wore the same frame, then the predefined design values of the lenses and their placement would work perfectly for all of us!
But the position in which each frame is placed on the face of each of us is unique.
In the past, before the digital design of corrective lens surfaces, personalized frame measurements did not matter because we could not utilize them.
Lens makers designed their lenses for a combination of face / frame with average values of vertex distance, pan-angle, forehead slope and reading distance.
The pupil distance and the height were the only measurements that we could accurately take, and based on these the corrective lenses were placed.
But why rely on average prices?
The visual performance of eyewear is affected by their distance from our eyes, their inclination, but also by how each frame "embraces" our face.
It is different the way each of us bows our head to look down or close, and it is very important at what distance everyone prefers to read!
With our new digital measuring device we can have all these personalized prices quickly, easily and accurately and use them to order your new eyewear.
With M'Eye Fit we take frame fit measurements to all our customers, any type of corrective lenses and if you choose, unifocal or multifocal.
So in your new eyewear, we achieve your optimal visual experience!
Furthermore, with the modern software of M'Eye Fit, we provide you with the ability to take photos with various frames of your choice and display them simultaneously on our computer screen, in order to facilitate your final decision.
Also, M'Eye Fit has simulations specially designed to present the corrective lenses in a realistic way, allowing you to experience their differences and advantages (multifocal lens designs, personalized single focus lenses designs, types of coating, lens thicknesses, etc.).
Book an appointment now for your M'Eye Fit experience at 210.68.50130
#meyefit #meyefitmirror #essilor #optika #optikamaggel #eyewear #prescriptioneyewear #reading #readingglasses #progressives #multifocal #aspheric #halandri #chalandri #khalandrion