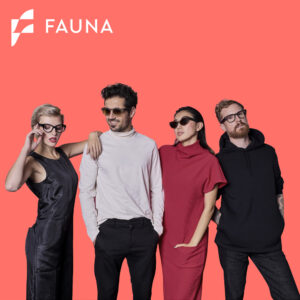 We brought them, we tested them, we listened them, we are impressed!
Fauna are a revolutionary pair of audio and communication glasses with speakers and microphone in the frame.
They protect our eyes from UVA and UVB while we enjoy our favorite music, or we make a phone call.
They are equipped with 2 microphones and 4 speakers.
Furthermore, they come with Carl Zeiss Vision sun lenses for outdoor use or blue blocking lenses for computer use, or we can add your prescription lenses.
Package contains charging case, USB-C cable and cleaning cloth.
Their frame is specially designed for perfect private listening experience, minimizing sound lick to the environment.
Thy have 2 years warranty.
Functions:
Music/podcasts listening
Hand-free calls
Voice assistant
SIZE & WEIGHT GLASSES
Size (Spiro Transparent Brown, Memor Havana):
145.5 mm x 46.5 mm x 153.5 mm
Weight: 50 g
SIZE & WEIGHT CHARGING CASE
Size Charging Case: 169 mm x 57 mm x 66 mm
Weight: 196 g
AUDIO
System: 2-way sound system with USound MEMS microspeakers and electrodynamic woofers
Volume: 80 dB @ 1 kHz
Frequency Bandwidth: 250 Hz to 20 kHz
Microphone: 2 microphones
BATTERY
Ready: up to 20 hours
Media: up to 4 hours of music, voice assistant, phone calls.
Charging Time in Charging Case: max. 2 hours
Battery Capacity Glasses: 100 mAh
Battery Capacity Charging Case: 1300 mAh
COMPATIBILITY
Operating System: iPhone 5 or higher with iOS 10 or higher
Android: Most Android devices with Android 6.0 or higher