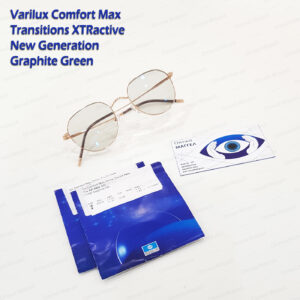 First pair of Essilor Varilux Comfort Max Transitions XTRactive New Generation Crizal Sapphire HR in Greece!
It's nice that our customers trust us for their pair of glasses!
It's even nicer that our partners trust us for their glasses!
In a nutshell the technical data, which we like:
Essilor Varilux Comfort Max
Refreshed multifocal design of the "evergreen" Varilux Comfort with emphasis on the intermediate distance and smooth transition from the intermediate to the close distance for easier adjustment.
Transitions XTRactive New Generation
Photochromic pair of lenses with 35% faster coloring and discoloration and darker at high temperatures (category 3) as well as in the car * (category 2) compared to the 1st generation XTR.
Crizal Sapphire HR
New anti-reflective coating with enhanced anti-scratch, antistatic, lipophobic and hydrophobic properties and increased resistance to high temperatures.
…and all these features in the beautiful and lightweight titanium frame of Bolon!